Playa Zipolite. Welcome To The Beach Of The Dead!
Budget, Backpackers, Surfers, Beach Lovers, Naturalist, Hippie, Sun and Sand worshipers, Off the Beaten Path Paradise! Everyone is welcome at Zipolite!
A little about Playa Zipolite, The Beach of the Dead . . .
Playa Zipolite, Oaxaca, Southern Mexico, on the Pacific Ocean. A little bit about my favorite little get-away on this small world of ours.




Zipolite, a sweaty 30-minute walk west from Puerto Angel, brings you to Playa Zipolite and another world. The feeling here is 1970's - Led Zep, Marley, and scruffy gringos.




A long, long time ago, Zipolite beach was usually visited by the Zapotecans...who made it a magical place. They came to visit Zipolite to meditate, or just to rest.




Recently, this beach has begun to receive day-trippers from Puerto Angel and Puerto Escondido, giving it a more TOURISTY feel than before.




Most people come here for the novelty of the nude beach, yoga, turtles, seafood, surf, meditation, vegetarians, discos, party, to get burnt by the sun, or to see how long they can stretch their skinny budget.




I post WWW Oaxaca, Mexico, Zipolite and areas nearby information. Also general budget, backpacker, surfer, off the beaten path, Mexico and beyond, information.




REMEMBER: Everyone is welcome at Zipolite.




ivan

Click a link for an easier search of this Zipolite site:
Zipolite
(6336)
Budget Backpackers Off The Beaten Path
(6334)
Near Zipolite
(2271)
Just For Fun ... by iVAn
(2115)
Travel Mexico
(1955)
Good morning and peace.
(1890)
Oaxaca
(1871)
Puerto Escondido
(1079)
SURF NEWS
(1006)
RELAX
(923)
Huatulco
(704)
FriDay ... Or It Feels Like A Friday. :)
(658)
Mazunte
(540)
Mexico
(459)
... It's starting to feel a little like Christmas ...
(443)
Puerto Angel
(352)
Pochutla
(265)
San Agustinillo
(187)
Oaxaca City
(184)
Yoga
(136)
oooooooh ...Mexico ....
(135)
Christmas
(125)
ROCK and roll or whatever ... :)
(111)
... I luv Halloween ...
(104)
Radio
(104)
Happy New Year! :) ivan
(98)
Turtle
(98)
Piña Palmera
(88)
Mexico Travel
(86)
Grand Coulee Dam
(80)
HOW TO PLAY THE WAVES
(60)
Ventanilla
(52)
Playa Amor
(48)
God Bless.
(31)
Mermejita
(13)
A New Year ... cool.
(7)
Playa Estacahuite
(6)
playa la boquilla
(3)
Marmejita
(2)

Monday, July 13, 2020
Posted by

Ivan Jay
at 10:59 AM
No comments:


Sunday, July 12, 2020
Posted by

Ivan Jay
at 6:48 PM
No comments:


Saturday, July 11, 2020
Virus still out of control, another lockdown will be required: ex-health ministers
Mexico's coronavirus pandemic is out of control, says one former federal health minister, while another predicts that a new lockdown will be needed to halt the rapid growth in new cases.

FULL STORY
Another record: new coronavirus cases top 7,000 in one day
For a second consecutive day a new single-day record for coronavirus cases was set Thursday with more than 7,000 new infections reported for the first time. FULL STORY
RELATED: Record new Covid-19 cases on Wednesday but authorities remain upbeat. FULL STORY
Share this email and introduce friends to Mexico News Daily
Mexican workers face higher risk of dying from Covid-19
Mexican health workers are more likely to die from the virus than their counterparts in countries such as the United States, China, Peru and Brazil. FULL STORY
CDMX remains high-risk orange; some areas to be red
High-risk "orange light" coronavirus restrictions will remain in place in Mexico City next week, Mayor Claudia Sheinbaum said. FULL STORY
Baja sees big surge in coronavirus cases, putting pressure on hospitals
Baja California Sur remains at the orange, high-risk level for the spread of the coronavirus with new cases mounting and hospitals pushed to the brink. FULL STORY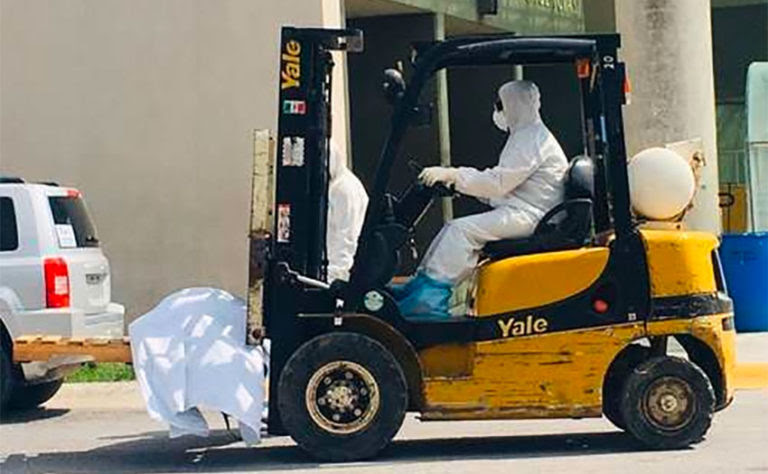 Hospitals reported saturated with Covid patients in Matamoros, Tamaulipas
One report said that the beds set aside for coronavirus patients in an ISSSTE hospital, three IMSS hospitals and the state-run General Hospital are all full. FULL STORY
Southern Quintana Roo moves back into red
Authorities announced that "red light" coronavirus restrictions will apply in the southern half of the state next week due to an increase in case numbers and high occupancy levels in hospitals. FULL STORY
A Chiapas protest blames Bill Gates for the coronavirus
Citizens of Las Margaritas demonstrated in Tuxtla Gutiérrez, railing against the coronavirus and claiming that the deadly pandemic was created by Microsoft founder Bill Gates to murder the elderly and sick. FULL STORY
From fishboats to patrol vessels, yard looks back on 65 years of shipbuilding
Patrol vessels, tugboats and shrimp boats are among the more than 100 watercraft built at Naval Shipyard No. 1 in Tampico, Tamaulipas, over the past 65 years. FULL STORY
Ford faces parts shortages as virus impacts factories
The automaker is facing potential parts shortages from suppliers in northern Mexico as the coronavirus pandemic throttles production, threatening the ability of factories in the United States to keep manufacturing vehicles. FULL STORY
Story about pulque vendor triggers rally of support
For years 88-year-old Bernabé Rodríguez has been making and selling pulque in Atotonilco de Tula, Hidalgo. After his story was published, the community rallied around the elderly man who survives at times on just pennies a day. FULL STORY
Oaxaca named world's best city by Travel + Leisure
Four Mexican destinations made the top 25 after readers rated cities on sights and landmarks, culture, cuisine, friendliness, shopping and overall value. FULL STORY
Ex-governor wanted for corruption was selling used auto parts in Florida
The auto business marked the rise and fall of César Duarte. At age 20, before he became governor of Chihuahua, he began selling used cars in Hidalgo de Parral. This week he was arrested at a used parts store he is believed to own. FULL STORY
Ex-Chihuahua governor, wanted for corruption, arrested in US
César Duarte was taken into custody by officers with the US Marshals Service who were acting on an arrest warrant for extradition purposes. FULL STORY
Governor keeps the heat on over disputed toll plaza
Baja California Governor Jaime Bonilla continues his battle with the federal government over a toll plaza and is calling for President López Obrador to intervene. FULL STORY
RELATED: Baja governor takes over federal toll plaza; feds take it back. FULL STORY
Border control measures to stop nonessential traffic lifted in Sonora
Checkpoints to prevent non-essential crossings from the United States into Mexico, put in place for the July 4 weekend, were withdrawn two weeks early. FULL STORY
Municipal, state police to take on investigation role
Local police will not just patrol the streets but also carry out criminal investigations under a new policing model approved by a national security organization. FULL STORY
Thieves remove ATM with tow truck but fail to get cash
Intrepid thieves attempted to steal an ATM from a Culiacán, Sinaloa, shopping center by dragging it away using a stolen tow truck. But their attempts to withdraw the cash were unsuccessful. FULL STORY
Pemex can't pay its debts, seeks relief from suppliers
People with knowledge of the oil company's situation said that Pemex is asking some of its contractors if they can wait until 2021 for payments owed now. FULL STORY
Travelers to enjoy free Wi-Fi in Mexico City airport
Travelers at Benito Juárez International Airport will be able to enjoy free internet in both terminals starting July 13. FULL STORY
Air quality in Mexico City responsible for 11,000 deaths
Air pollution in Mexico City is costly, according to a new tool. It has been linked to about 11,000 premature deaths so far this year. FULL STORY
THE MND POLL
THE STORY:
Security officials predict 50% decline in murders and other crimes by 2024
FULL STORY
THE QUESTION:
Is a 50% reduction in murders doable by 2024? VOTE HERE
LAST POLL:
Will the new trade pact provide early relief from the economic woes brought on by Covid-19?
74% said it won't.
VIEW FULL RESULTS
The cave at the end of the world and the ghost town of Tequilizinta
Inspired by a report of a cave without an end, John Pint and fellow explorers began a search for La Cuata Cave, reported to be set in a precipice overlooking the Santiago River in Jalisco.
FULL STORY
Newsletter options
Some readers prefer to stay up to date with the three-times-weekly summary of Mexico news provided by
Mexico News Today.
For others, however, it's too infrequent. The alternative is
The Whole Enchilada
: it gives readers links to the same stories as
Mexico News Today
but they arrive in your inbox daily rather than three times a week. If a daily news fix is what you want,
check out
The Whole Enchilada
here
.
Posted by

Ivan Jay
at 1:13 PM
No comments:


Julisa Castro
Hello friends, today we will have rich
♦️
tuna salad $ 200 a liter
♦️
tuna ceviche $ 200 a liter
♦️
Gold strips $ 80 the order
Make your orders will be ready after 1:30 in the afternoon door tickets pto angel Zipolite and Pochutla we are located in PECCADERÍA CECY POCHUTLA by Avillas
🥰
😋
Melizytha Castro
Everest Sanson Audelo Castro
Posted by

Ivan Jay
at 10:59 AM
No comments: