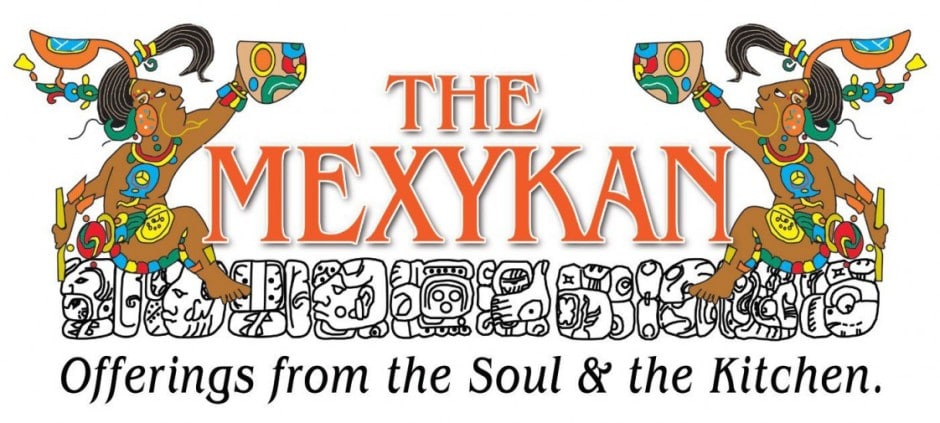 Join us
for the Mexican Cooking
Classes and Local Market Tours
in Puerto Escondido.
Individuals, Small Groups, and Families.
Learn to Prepare Fantastic Salsas.
The Salsa Cooking Classes include a multi-course lunch planned & prepared
exclusively by The Mexykan.

*
In the Salsa Class, you enjoy Delicious Handmade Oaxacan Antojitos, Guacamole,

Oven

Roasted Meat

*

, Mexican Rice with Tomatoes Criollos, Oaxacan Black Beans de Olla, and More.
*Private Salsa Classes can be tailored to meet your dietary restrictions.
Please scroll down the page and fill out the simple form.
Reserve your spot today. Thanks for your interest in The Mexykan Salsa Cooking Classes.
Vamos a Cocinar!
The Mexican Cooking Class & Local Market Tour.
This class offers an insider's look in the Benito Juarez Market in Puerto Escondido. We start the day at a local comedor / Mexican diner for Oaxacan breakfast and Fresh Squeezed Juice. Here we experience the sights, sounds, and smells of the market while shopping for local ingredients. We check out the unique chiles native to Oaxaca. Learn how to buy, prepare and utilize them.
After we tour the market we head into the kitchen to prepare a sumptuous lunch in the cooking class.
In the Mexican Cooking Classes and Market Tours you will prepare a multi-course menu with local ingredients for lunch.

*
We usually prepare two salsas, guacamole y tostadas, a main course for example of mole amarillo, chiles rellenos or homestyle carnitas – just to name a few of the possibilities. Plus veggies, rice, beans along with fresh fruits and cheese to finish and MORE.

*Private Cooking Classes can be tailored to your dietary needs.
Prepare Mexican Dishes and Mexican Salsas usually served only in the home, rarely in restaurants.
For more details please fill out the form below.
Reserve Your Spot Today!
Enjoy and Savor Mexican Culinary Traditions.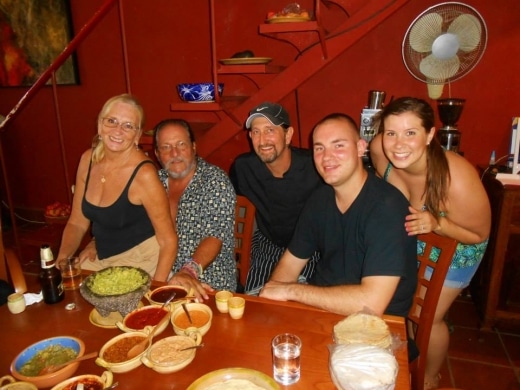 Below is an Excerpt from enViva Magazine. Author Brian Overcast
Mi misión imposible: El mole
Un desafío más me esperaba en Puerto Escondido: aprender a hacer mole. Igual que con el surf, que nunca me imaginé capaz de practicar, jamás pensé que podría pasar de abrir un frasco de mole y agregarle caldo, a prepararlo desde cero.
"No sé por qué a este platillo le llaman mole amarillo; es más bien rojizo y anaranjado", me comentó mientras salíamos al patio a cortar hoja santa para saltear el camarón. Todo fluía en esta cocina: los frijoles negros y el arroz estuvieron listos a tiempo, y me reí para mis adentros cuando me imaginé intentando lo mismo en mi cocina. Mejor disfrutar de este momento, y de la cremosa y tibia salsa de mole vertida sobre los jugosos camarones; una delicia con la nota picante perfecta.
"Invigorated by having successfully
flown across water on a board, I was
ready for my next challenge: making
mole. I headed to the market in Puerto
Escondido to meet my mole instructor,
Tony. First, he took me shopping, intently
examining each chili [sic]and vegetable.
In his personal kitchen, he chopped and
stirred and mixed away—everything
just flowed naturally, and I chuckled
just thinking about attempting this on
my own. Better just enjoy this moment,
I thought, as the creamy mole sauce
poured over the shrimp. And I did."
Please, if after sending your message you don't receive a response from me within a few hours. Please Check Your Junk or Spam Folder for an email.