Share
Tweet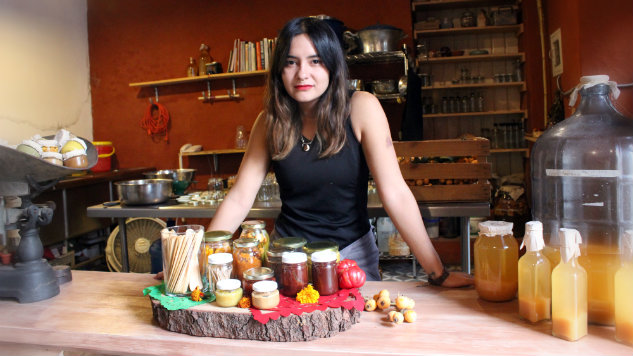 Garcia at the tasting counter at Suculenta
Paulina Garcia grew up in arid northern Mexico, where garlic, pecans, apples and potatoes grow, but most people she knew shopped at H-E-B, Walmart and Sam's Club. "In the north, we're pretty Americanized," Garcia said.
When Garcia moved to the city of Oaxaca with her boyfriend Daniel Lopez, who co-opened top bakery
Boulenc
on Calle Porfirio Diaz, she had been experimenting with pickling. A few months ago, a small, charming space opened up across the street from Boulenc and was offered to the bakery, but they didn't want it, so they offered it to Garcia and Lopez. Garcia knew immediately what she wanted to do: a pickle shop that took advantage of the bounty of Oaxaca's markets, which overflow with such a diversity of fruits and vegetables that Garcia says she learns a new species every week. A few wooden shelves and pickling sessions later,
Suculenta
was ushered into Oaxaca's booming culinary scene.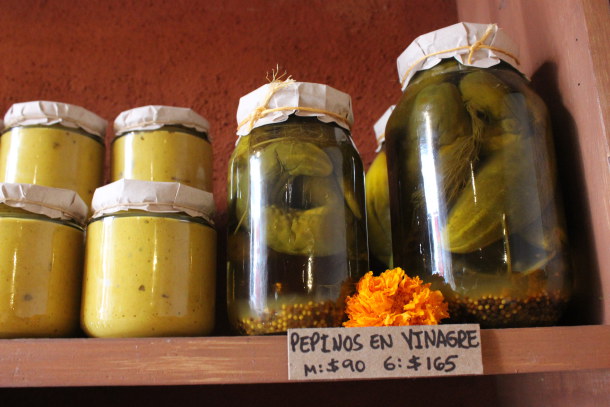 Cucumber pickles in two sizes
Guests peruse the shelves full of dill pickles, cardamom honey, pear marmalade, mushroom pate, pumpkin relish, ginger mustard, apple vinegar, and oil flavored with Mexican herbs and spices. Friends, neighbors and acquaintances pop in to say hello to Garcia as she works on putting up her latest batch of escabeche. "We know a lot of these people from the bakery, so you could say we have a close relationship with our customers," Garcia said. "This project reminds some people of a recipe from their grandmother or mother, so everybody is always sharing."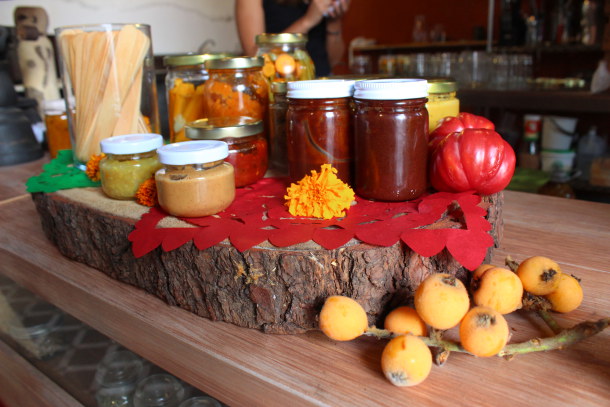 Nispero fruits and various jams and sauces
At the front, I sample a jam that is remarkably flavorful, evoking the sweet, ripe, light taste that hovers somewhere between an apricot and a plum. Garcia says that the jam is made from a small golden yellow fruit that she passes to me, urging me to taste it. Garcia found the Japanese plum known as
loquat
, or nispero in Mexico, at a Oaxaca market one day. Though native to Asia, it grows widely across Oaxaca, Garcia says, and is just one of the many new foods that has entered her life since she moved to abundant Oaxaca.
Visitors to Oaxaca can sample Garcia's pickles at her shop, or if it's closed, purchase them down the street at Boulenc bakery, which uses her jams, mushroom pate, mustard, pickled carrots and jams, and sells jars of her products.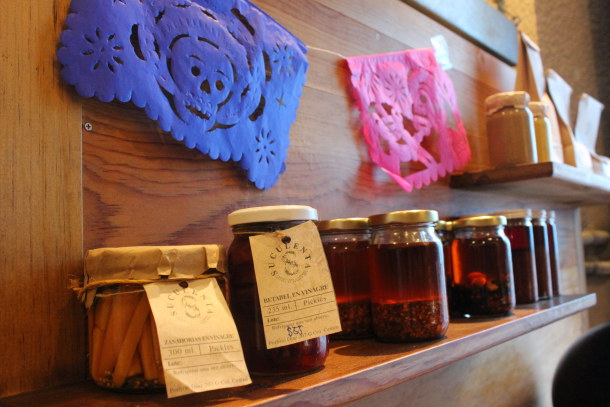 Suculenta products for sale at Boulenc
Paste chatted with Garcia about the food climate in Oaxaca and her hopes for her pickling shop.
Paste: So are pickles traditionally a Oaxacan food? There is escabeche, but are other items typically pickled?
Paulina Garcia: There are some pickles made in Oaxaca — some chayotes, potatoes, carrots, plums. They sell them on the street usually, with a piece of bread. They pour strong vinegar directly on them, so they are a bit strong. Also, pigs' feet are served on escabeche. I haven't tried that one, but I've seen it a lot in Mexico in general.
Paste: How do you make your escabeche?
PG: The traditional recipe is made with white vinegar, water, salt, spices, and vegetable oil. You can use jalapenos, any kind of vegetables, or a mix of both. Our recipe is made with olive oil instead of vegetable oil to make it more healthy and tasteful.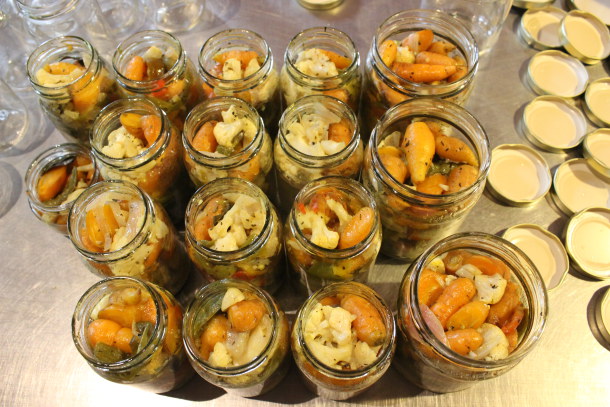 Garcia's escabeche
Paste: Since produce grows year-round here, it doesn't seem like there's as much of a need to ferment food for the winter, but are Mexicans generally embracing fermented foods to a greater degree, in your opinion?
PG: Anything that it's "in" in the U.S. eventually makes it way into Mexico, a few years later of course. So I believe that we are a little bit ahead of our time, but it's definitely becoming a thing. Pickles, healthy food, ferments, sourdough, all the good stuff.
Paste: Do you have an idealistic mission when it comes to your pickles?
PG: Yes, our aim is to replace the supermarkets and the brands that we all usually buy. Our products use only local ingredients, with no artificial flavors or preservatives. Buying something from us supports the producers and farmers directly.
Suculenta's wide variety of preserved products
Paste: What are your most popular items?
PG: I would say the marmalades and the peanut butter, probably because they're sweet and easier to pair, and in second place, the dill cucumber pickles.
Paste: You wouldn't think this pickle recipe from north of the border would be the most popular.
PG: I'd say it's because we get a lot of foreign people that love pickles. And in our Mexican market, we know that pickle from burgers and hot dogs, so it's easy to know how to eat it.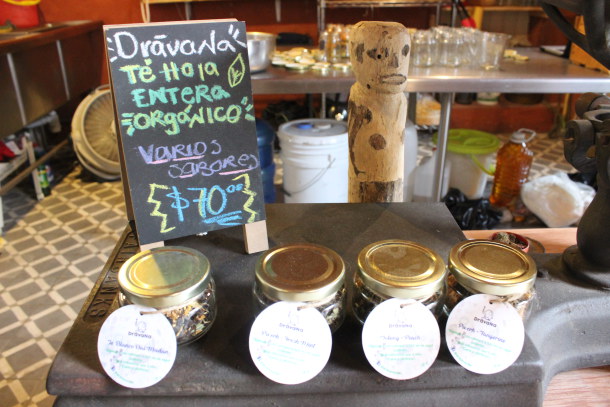 Organic whole leaf tea
Paste: What are some new items that you are experimenting with?
PG: Right now, I'm experimenting with lacto-fermented carrots and radishes. The flavor is crazy interesting. We just got some organic honey and beeswax, so I'm doing soap, candles and beeswax lip balm. And pickles, always pickles. We just did some pickled quail eggs and pickled garlic and they're amazing. Also, I'd like to have a whole line of beauty products, personal hygiene, utilitarian items — everything with the same concept: simple, natural, locally made, homemade.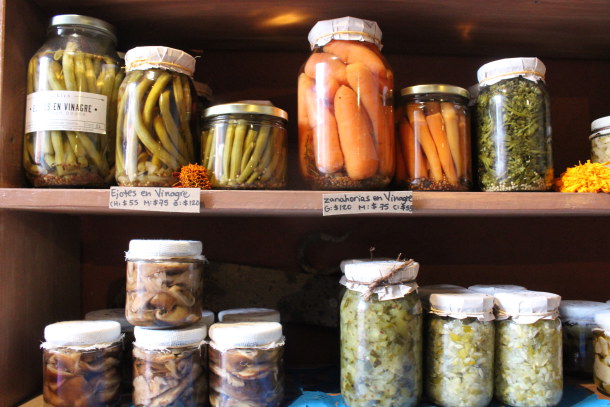 Whole pickled vegetables, including green beans and carrots
Paste: Any other new fruits or vegetables you've discovered lately besides the nispero?
PG: Magic beans! We just got a mix of beans grown and harvested in a small town in the Sierra Sur. When we opened them, they were all different colors and sizes, and they looked like candy.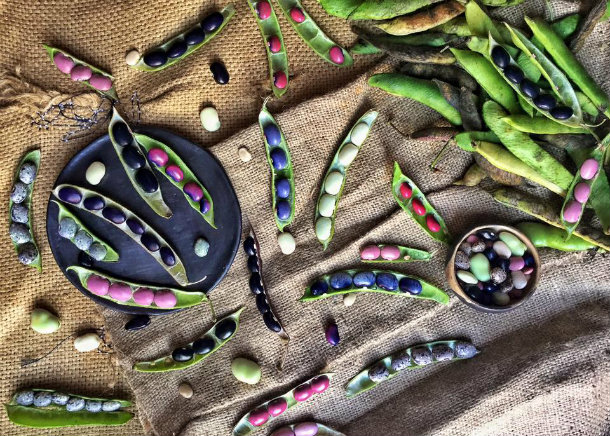 Garcia's "magic beans" (courtesy of Suculenta)
Paste: Has the Oaxacan community been supportive, culinarily and culturally?
PG: Yes, I love it here. Seems like everybody is doing something interesting and it's really easy to connect with people of all ages and genders. I have 65 year old friends and I think that's amazing. Where I come from, you only make friends with people your own age. I think that limits you in a way.
Paste: What markets and restaurants do you like most in Oaxaca, and why?
PG
: I visit all markets —
20 de Noviembre
and
Sanchez Pascuas
more because they're in my same street. But I go to Abastos and, whenever we can, we visit markets in other towns — you always find something new. For restaurants, I like
El Destilado
,
Archivo Maguey
,
La Biznaga
, and tons of street food of course. And obviously, Boulenc everyday.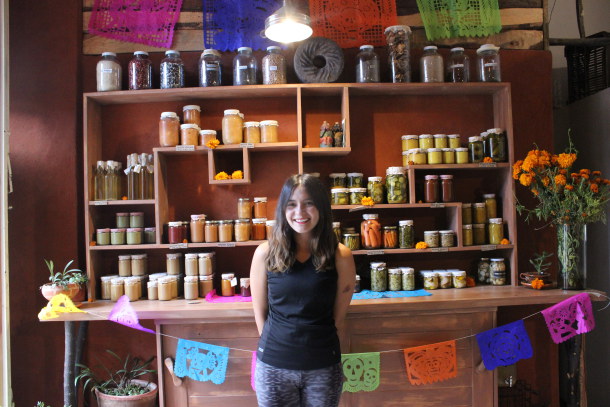 Garcia in her shop
Paste: Your shop is so charming. Are you planning on expanding?
PG: Right know it's only a part store and a part kitchen. The place connects with a huge house so we're definitely looking to expand.
Suculenta is located at Porfirio Diaz #207-G in Oaxaca's Centro Historico and is open from 10 a.m. to 6 p.m. daily. The store is closed on Sundays. Call +52 951 351 3648 for daily specials.
Dakota Kim is Paste's Food Editor. Tweet her @dakotakim1.